Guess what? It is Friday! That makes me very, very happy. Seeing as how we have a lovely weekend ahead of us, I thought I'd share some good reading material for you to amuse yourself with this weekend. I put together a list of my most referred to, absolute favorite, blogs and websites. Some of these you will no doubt be very familiar with. I hope some are new to you, and will be as helpful to you as they are to me.
Home Decor:
This site has tons of good tips on how to put a room together, and how to decorate within your style. It was one of the first blogs I ever started reading, and I have learned so much from it!
I don't think this one needs any explanation, if you've not seen Donna's work over at Funky Junk Interiors, you need to! She is one hundred percent original, and that is what appeals to me the most. She also has great photography, blog, and business tips too!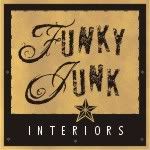 Funky Junk Interiors
Furniture Painting:
Here is another one you most likely are familiar with, the expert on all things furniture. I love to get painting tips and business tips as well from here.
This one taught me all I know about spray painting furniture and glazing. This lady does the most beautiful work with glaze!
Blog/Business:
I am so not smart with computers, so this blog has been hugely helpful to me. From blog buttons to changing HTML codes, you can find the info here.
Sneaky Momma Blog Design
If you have an Etsy shop or an online shop, this is an endless resource of tips, advice and tutorials. I get a daily email from them and every single one is helpful information.
This one is slightly more technical, but if you are interested in things regarding the clothing industry, this is gold. This lady is very knowledgeable and writes about every facet of the clothing production process.
Inspiration/Ideas:
Everything from DIY tutorials, unique products on the market, to business tips, this blog is so fun to wander through. I follow them through Facebook, and totally love all the random things that pop up in their posts!
Hmm. Need I say anything here?? Really?
Home Management/Coupons:
I do not work outside the home, but I still find this website very helpful. I also don't use coupons as much as I'd like...but I'm working on it! You know, something about that whole organization and preparation thing gets me. This one is great, because you don't have to pay, set up an account, or anything like that to print out coupons. She has tips for organization, shopping, and meal planning too.
Mind/Heart:
You know, according to my stats, I get about 400 click throughs a day looking at my projects. I can't help but wonder about the "clickers". You, my readers, have lives outside of blogs and projects. None of us have the luxury of problem free lives. We all have bigger issues to deal with than what sort of wood glue we should use to fix our dining room chair. I subscribe to this blog via email, and listen to it every time there is a new post, while I'm doing my daily work. I find the subjects addressed to be very helpful, challenging, and encouraging. Specifically the last two posts. Sometimes life is just plain hard to deal with, and bad things happen that just aren't fair. Have you ever wondered, if God is so loving and good than why do bad things happen? Sickness, job loss, death of loved ones, financial hardship, miscarriages, unjust behaviour of others towards us, are just a few of the things that could cause us to wonder, where is God? Maybe God and you are not really on speaking terms, because of the bad things that have happened to you. Whatever situations you may have faced in the past, or are facing currently, I promise you, you will be helped by listening to these posts. I don't know you, and you matter to me...God created you, you matter to Him far more than you can imagine!
P.S The Giveaway for
FREE digital scrapbooking software
is still open, but only until Sunday night!
Click here
for your chance to win!!
Isaiah 43:1

But now thus saith the LORD that created thee, O Jacob, and he that formed thee, O Israel, Fear not: for I have redeemed thee, I have called thee by thy name; thou art mine.