Back in the day, before we bought this old ramshackled house of our's, that's taken over every spare minute of my time, I used to spend every extra second I could find sewing something. All this painting and whatnot has caused my wardrobe to suffer severely! (Ok, actually not really. I have way more clothes than I need.) Anyway, I did a bit of online shopping looking for some things I might like to freshen up my clothing selection for spring. My idea of "shopping" is to find something I like, and then figure out how to make it myself for a fraction of the cost. I came across this skirt, and I quite liked its casual scrappy look.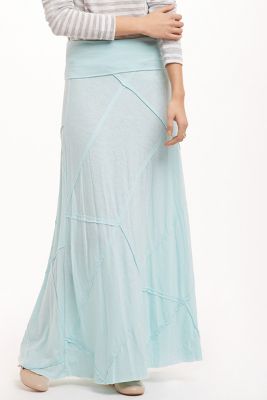 I used it as my inspiration to make this version. I used a denim-like jersey knit, and made a
basic maxi skirt (tutorial here)
with some scrappy goodness added to it.
If you'd like to give it a try, see
my maxi skirt tutorial
for what you should cut out. In addition to the waist band and the actual skirt, you'll need to cut out several long strips about a half inch wide.
Spread the skirt open and start laying out the strips in the design you like pinning as you go. I flipped my strips wrong side out so that the fabric would contrast, but you don't have to do that.
I pinned the strips all in place, and did not trim the ends just in-case I wanted to rearrange while sewing.
I sewed them on, starting front and center, and sewing down the center of the strips. I used a long, narrow zigzag stitch so that the skirt would retain all of it's original stretchyness.
If you aren't using a walking foot on your machine, you might find that the fabric wants to bubble and bunch a bit as you sew the strips down. You can fix that by putting your needle down, and lifting your foot to ease out the fabric.
Once your strips are all sewn on, sew up the back seam. I matched my strips at the seam, but I don't think the Anthro version does, so anyway you like works.
Finish up with the waist, hem, and press.
Mine cost me around $10 and it couldn't have been more simple to do.
Among other things, I am bound and determined to make a decent button down shirt for myself that actually is long enough in the arms and torso! Except, I've never done one before...so we'll see how that goes. Have you done any spring shopping lately? What will you be adding to your wardrobe?
1 Peter 1:24,25
For all flesh
is
as grass, and all the glory of man as the flower of grass. The grass withereth, and the flower thereof falleth away:
But the word of the Lord endureth for ever.