Have you ever had a project you thought you would just whip right through...only to find out it wasn't quite as simple as you thought? I tend to do that, a
lot.
Take these wood walls for instance...I've painted lots of walls before, how hard could it possible be?? These ever so shiny, heavily oiled and varnished walls would not be any more trouble than your average plain Jane drywall. Give me two weeks, I'd have the whole house done,
no problem
.
You know just how long it took me to get the
entry
done?
Two weeks
!
(See more about it here.)
And that was doing it the cheaters way! See, the contractor who has been doing some work for us, told me that I would have to
sand
each board
individually,
before I could pant! At first I thought he was joking, but when I looked at him,
he was dead serious.
My heart sunk, fill my freshly scrubbed out house with sawdust? Not on your life! What my kind contractor did not realize is, I am not a professional, nor am I patient. I also "take" two very active and curious little girls to work with me. Projects need to be short and sweet or drastically inconvenient things can happen!
If you are like me, and have a small forest of wood in your house to paint, I present to you...the cheaters way to paint finished wood walls in four easy steps. (If you are a contractor or a wood lover, please avert your eyes.)
Number 1. CLEAN it! I had no idea just how dirty those walls were until I started washing them. (This has become my prime argument for white walls, at least I can SEE when it needs washing!) I used TSP which is a degrease. Do this step as many times as is needed to be certain the wall is clean.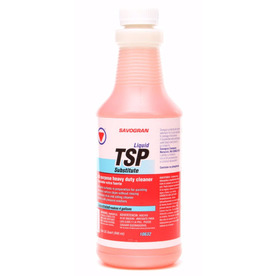 Number 2. Sand it...using liquid sander. No dust, super quick and easy...I am a huge fan. I am not super picky about this step, just rub the wall down once with an old t-shirt and this stuff. It basically just etches the surface a bit.
Number 3. Prime it. Make sure you get a primer that SEALS as well as primes. Wood knots and the old varnish will bleed, so it is very important that the wood is sealed. I use this one.
This step is the most important one. You have to keep applying primer until there is no more bleed through and there is no more wood showing. You must let each coat of primer DRY completely before applying the next coat. For the first coat, thinner is better. My first wall, I did a nice thick coat for the first coat, and it gunked up and took forever to dry. I thought I had ruined the wall, but it turned out ok. I've learned go thin on the first, thicker on the second, and touch up on the third. Yes, you read that correctly,
three
coats. Fun. Even funner, all the cutting in you have to do with a pant brush. One can't simple roll over these walls with a roller brush, all the cracks must be hand brushed first.
The first coat takes the longest and looks horrific. You will wonder what on earth you have done! (I'll be painting those stairs later, that's why I didn't bother taping them off.)
There will most likely be some gunked up yellow spots where there are thicker patches of varnish interacting with the primer. Don't panic, the second coat will even it out.
Number 4. The fun step, paint that sucker! I usually only need one coat of paint, and a touch up. Easy peasy. I use the primer/paint mix of the Behr brand paint from Home Depot just for good measure. (The weird shadows are from the chandelier, I promise the final coat is nice and even!) I also use semi gloss which has a bit of shine and is very easy to clean.
So far, my method is working out nicely. I dropped a metal decoration the other day, and it slid all the way down the wall without leaving a single mark or scratch. All those coats makes for a pretty durable finish. Above all, don't be fooled, wood walls are not drywall! (But in my personal opinion, they are much prettier and worth all the extra work!)
Incidentally, another piece of random information about these walls, my contractor informed me that these are all individual boards hand crafted to fit! I just assumed they were large panels or something. The fact the my entire house house has these walls, parquet floors and planked ceilings downstairs, and custom cabinets blows my mind. Whoever built this house had more patience than I would have in fifteen lifetimes! Cutting and fitting all that wood...makes me shutter to think about it! I'll stick to painting it, and maybe I'll finish sometime in this century.
Psalms 90:12
So teach
us
to number our days, that we may apply
our
hearts
unto wisdom
.